Get INVOLVED
Don't think, DO IT!
We're always on the lookout for actors, directors and writers. We're also keen to hear from people who'd be interested in becoming part of our backstage hero team. You don't need experience, just a willingness to "pitch" in.
For more information on how to get involved or to be added to the mailing list please contact Bradley Barlow for details of how you can get involved by emailing pitchybreath@gmail.com or complete the form below.
Do it…do it NOW!
Got INVOLVED
Here's some feedback from cast and crew regarding their experiences with one of the South's leading community theatre projects.
GARY ANDREWS
Member since 1995
Involved in 15 productions

Still Vibrating (acting)

Macbeth (acting and director)

Merry Wives of Windsor (acting)

Cyrano de Bergerac (acting)
Torn (acting)
King Lear (director)
A Midsummer Night's Dream (acting)

Torn – tour (acting)

Hamlet (acting)

The Fair Maid of the West (acting and director)

Much Ado About Nothing (director)
Shorts (director)
Comedy of Errors (director)
The Taming of the Shrew (director)
The Wind in the Willows (writer, adapted from the novel)
I love the freedom PB gives to create something original, whether it's new writing or an new look at an established classic. True community theatre that isn't scared of taking a chance.
BRADLEY BARLOW
Member since 2010
Involved in 6 productions

Mokita (acting)

143 Seconds (writer and director)

Dead Leaves (writer and director)

No Place Like Home (acting)
Surprise (director)
Playing with Fire (director)
I first performed with Pitchy Breath in 2010's Mokita and instantly fell in love with the group. Unlike a lot of theatre groups, Pitchy isn't afraid to take risks and push boundaries whilst always ensuring that high quality enjoyable productions are delivered to our audiences.  My roles in Mokita and No Place Like Home remain the best parts I've ever played and I feel lucky to have had the opportunity to perform in these exciting new plays from local writers.
Pitchy has also given me the opportunity to develop my skills as a writer and director – there is a real atmosphere of nurturing talent and supporting each and every member.  Many of Pitchy's members have become very close friends without any feeling of being part of a clique – anyone with an open mind and willing to support local talent will always be welcome at Pitchy.
NICK DUKE
Member since 2010
Involved in 6 productions

The Wind in the Willows (acting)
Comedians (acting)
Shorts III (acting)
Little Red Riding Hood & Three Little Pigs (acting)
No Place Like Home (acting)

The Hare and the Tortoise, Goldilocks & the Three Bears, Rumplestiltskin (acting)
After finishing university I was at a loose end. I had always loved acting but hadn't performed for a while, so I went along to the drama workshop and rediscovered my passion. From there I joined Pitchy and I have since been involved with six incredibly varied and successful shows. I have lost myself in challenging and interesting roles ranging from a human ventriloquist dummy, to a posh owl and a cricket team captain from the nineteenth century. Whether it is drama or comedy, Pitchy are never afraid to push the boundaries with their plays and provide an escape for performer and audience alike! They also nurture and promote the talents of local writers and directors, which provides a much needed platform for exciting and unique local theatre.
Pitchy is so much more than a theatre company, it is a family and a loving community of people. It has given me the opportunity to meet individuals of all ages and backgrounds and I have formed some lifelong friendships as a result. There are no egos or judgement with Pitchy, just a group of people sharing a common love for theatre and giving it a go. As a Crawley resident and teacher, I am only too aware the importance that a community based theatre company has for the area. I sincerely hope Pitchy is around for many years to come.
SALLY GILGEOURS
Member since 2015
Involved in 2 productions

The Hare and the Tortoise, Goldilocks & the Three Bears, Rumplestiltskin (acting)
Surprise (acting)
Well how can I place how important Pitchy Breath Theatre Company has been in my life.
Having taking time out of the one and only true love, to entertain through theatre, to have my family, I felt a gap in my life. After years of wishing I could find the kind of family who not only welcomed me with open arms but respect my views and dreams, I found Pitchy after watching my mother and friends perform in a play. I was taken aback of the massive talent you would spends fortune to see in London – right here in Crawley! I was so amazed and in awe of the stunning acting skills that I cried – and I never cry at theatre. I joined and never looked back – they gave me… well, "me" back again (if that makes sense) and I took in all they could teach me.
I have a massive self confidence issue but that soon disappeared as they made me feel like one of them. Theatre is important, it's the blood that runs through the veins of this town – we weren't born to pay bills, the community thrives when they watch and are involved in such pleasures.
What more can I say? They are my family and I for one will fight for and support them always so my family can enjoy and partake in such a well organised loving theatre company. Love you guys!
THELMA HEDLEY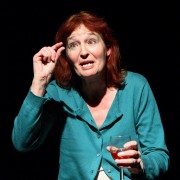 I was 50 years old with a long-standing secret wish to do some acting when I saw an advert for actors to take part in a Pitchy Breath production of Shorts. I plucked up courage to go to the audition, where I was the oldest and least talented person present – although I was made to feel as if I had as much right to be there as anyone else.
As it turned out, my age was in my favour because one of the parts called for an older person, and the director of one of the 'shorts' cast me in the role.
The sainted David Heley was also directing one of the short plays, and decided that as so many people in Crawley were interested in drama he would hold classes on a Monday evening in a community hall. During those classes Dave took us through improvisation exercises and put on a production at the end of each term with parts for us all. Although I was still the oldest and least talented member of the class, Dave's encouragement and the friendliness of the other students created a relaxed and fun learning experience.
As a result of this nurturing I had the confidence and skills to act in quite a few Pitchy Breath productions, and then in other amateur drama companies. I am very grateful to PB, and know that there are other people out there who are just waiting for the opportunity that I was given.
MARISA JOHNSON
Member since 2011
Involved in 2 productions

The Gentleman's Friend (acting)

There's No Place Like Home (acting)
I've only been in two of Pitchy's plays but felt instantly felt like I'd been with everyone for years! The people you meet doing a play with Pitchy are so welcoming and that's one of the reasons why it has to continue. The level of skill and talent is next to none and we always like to do things differently and are always up for a challenge. Also, Pitchy love to welcome new and local script writers as well as actors. I don't know any other company that do that as much.
Pitchy rules and if you ever think about joining a theatre group, don't hesitate – you'll meet the best kind of people and have so much fun!
CHARLIE JOSEPH
Blog post: Charlie Joseph recounts his year at Pitchy – read here
SONIA MOIR
Member since 2005
Involved in 4 productions

Much Ado About Nothing (acting)
Taming of the Shrew (acting)

Shorts III (acting)

Dead Leaves (acting)
I became involved in Pitchy via Gary Andrews who directed me in Much Ado and it has remained a hugely important part of my life over the past 11 years.  I still count so many people, from my first show to my last, as good friends, and that's part of the beauty of the Pitchy Breath concept – everyone is so supportive, encouraging and eager to develop their skills; you would be hard pushed to come away from any show without a new friend or two!
Am-dram groups can be cliquey and get a bad name for themselves, but Pitchy is nothing like that.  It's very democratic – large and diverse groups of people attend auditions and are allocated roles on the basis of their skill or potential to perform it rather than because of who they know in the company.  It means that the membership is constantly in flux, so you'll find yourself working with people of all ages, from all backgrounds which makes for a very exciting and dynamic creative environment.  There's also a real feeling of quality to the group, from the standard of the material which is chosen and performed to the level of skill demonstrated by everyone involved, both on and behind the stage.
For me, Pitchy is one of the places I can truly be me – outside of my job and my role as a mum.  It's where I've been able to follow my passion for performing, learn from incredibly talented people and have some of the best bloody times of my life!  Long live Pitchy Breath!
SOPHIE WADDINGTON
Member since March 2011
Involved in 6 productions

Wind in the Willows (acting)
The Fall + Fall of David Jones (props)

Shorts III (acting)

Red Riding Hood & Three Little Pigs (acting)

Dead Leaves (acting + props)

Hare + Tortoise, Goldilocks & Rumplestiltskin (acting)
My first experience of Pitchy Breath Theatre Company was watching Taming of the Shrew in 2011. It inspired me.
At the time I was fighting against postnatal depression and in dire need of a purpose outside of my home. I nervously auditioned for Pitchy's summer show and found myself welcomed into a whole new family. I rediscovered skills that I'd learnt doing Performing Arts at college and many more were added to my repertoire. I was made to feel valued and gained confidence and pride that has changed me for the better.
I feel that Pitchy is an important part of Crawley's artistic community. Whether you are on the stage, helping behind it or watching from the audience you sense that this group are friends. I have met some wonderful people many of whom I hope will be life long friends and I'd love for my 11 yr old daughter to one day have the opportunity to join us.
At Pitchy you aren't judged or excluded but supported and encouraged to help create some amazing theatre.
ALEX TAYLOR
Member since 2013
Involved in 6 productions

The Fall + Fall of David Jones (acting)
Shorts III (acting)
Red Riding Hood & Three Little Pigs (acting)
Dead Leaves (acting)

No Place Like Home (acting)

Surprise (acting)
I genuinely don't really know where to start. It may sound cringey but my dream since I was a little girl has been to perform on stage. For months after I left school there was always something missing until one day I came across Pitchy Breath. From the moment I stepped on stage for the first time with these truly wonderful and talented people everything fell into place. Pitchy has allowed me to grow in confidence, and to show my family my biggest passion in the world, and they are so so proud of me! When I'm on stage with these guys nothing else matters: I'm in the zone and doing what I love the most! There are so many other reasons why this company is so great but I could go on forever. Each and every person involved is unique and quite simply amazing – we make the most amazing theatre and I never want that to stop!
AMY TAYLOR
Member since 2013
Involved in 8 productions

The Fall + Fall of David Jones (acting)

The Gentlemen's Friend (acting)

Shorts II (acting)

Red Riding Hood & Three Little Pigs (acting)

Shorts III (acting)

Dead Leaves (acting)

Rumplestiltskin (acting)

Surprise (acting)
Before joining Pitchy breath and having the opportunity to not only perform in these wonderful productions but become friends with some truly talented, amazing people I was a little unconfident and, being an ex-drama student at school, was unaware of any opportunity for me to perform again locally. Until one night I came along to Pitchy's Monday Night Drama workshop and I knew from that night my life was going to change. Lucky enough to land myself a pretty special role as David Bowie in The Fall and Fall, a role that made me challenge myself massively, I was introduced into the family of Pitchy and I say family because that's what we are. A family. We support each other and work so so hard to produce these productions which have had nothing but amazing feedback. Working so closely with this lovely group & allowing myself to let go, perform and create is something that is so special for so many people at Pitchy. We are unique, we are talented, and leave lasting impressions on our audiences and never fail to make them laugh, cry, or simply be entertained.
AMY TERRY
Member since 2014
Involved in 2 productions

Little Red Riding Hood & Three Little Pigs (acting)

The Hare and the Tortoise, Goldilocks & the Three Bears, Rumplestiltskin (acting)
From my first day, I have never felt so welcome and included. Before I joined, Pitchy was already an established family, but everyone was willing to invite and collaborate with new and exiting members.
There has never been a dull moment in rehearsals and through this I have met some amazing people along the way, all of which have become true, life-long friends.
Pitchy is a group, governed with the aim to create entertaining performances, in order to inspire and engage the community. Regardless of experience, wealth or background, Pitchy is a growing family with so much more to offer.
As we all exist within a society full of poverty and hard-ship and economic depravity – how can this group end? Who will be around to inspire and challenge individuals and give them a safe place to explore their creativity and self-expression?
TIM FIFIELD
First show 1997
Been involved in 20 productions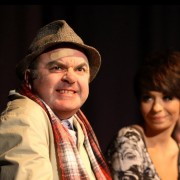 It's hard to believe that I've been involved with this group for nearly 20 years. From Shakespeare through to edgy new writing it's been my pleasure work with some truly talented individuals both on and off stage. For me Pitchy is the very definition of community theatre allowing curious individuals the time and space to develop their talents in a supportive and highly creative way.
Here are 10 reasons why I think Pitchy Breath is a vital part of our cultural landscape:
We champion new writers
Production standards are consistently high
We perform in professional spaces
Everyone is equal, there is no hierarchy
The shows are innovative, challenging and engaging
Audience appreciation is very high
We celebrate and support new starters in all aspects of theatre production
We attract and encourage input from professional actors and directors
We are multi-cultural and inclusive
We nurture and develop young talent
Personally I've developed as a writer, performer and actor and owe a debt of gratitude to this company for allowing me to perform a one man show, dress up as a toad and expose various parts of my body without getting arrested.