There are moments in life where people take a risk, stir up trouble or behave recklessly and the results can be profound, humorous and heart breaking. There are other moments when we just sit back, play with matches and watch the flames flicker.
Pitchy Breath Theatre Company present a series of short plays about risky decisions, troublemakers and the consequences of our actions.
8 & 9 November 2016 at The Hawth Studio Theatre, Crawley
12 November 2016 at The Capitol, Horsham

Show Credits
Produced by Bradley Barlow
Stage Managed by Dodie Browne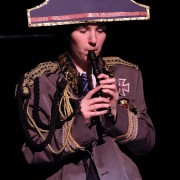 Risky Business
by Rob Taylor
Napoleon (Bonepart, of France, famous military leader) is having a bad week. So too is Myvanwy (Prosser, of Fishguard, not so famous washer woman). But just what do they have to do with each other, and how did Myvanwy manage to save Wales from the French and improve her washing in the process?
Cast
Rachel Duke as Brieux/Myfanwy
Elodie Foray as Napoleon
Alice Jackson as Tate
Lauren Morley as Jemima
Ella Sowton as Conor
Sophie Waddington as Trevor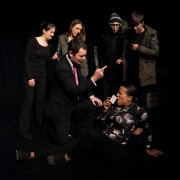 Chasing Cars
by Jerrard Moore
Hugo's life is falling apart around him and he will do anything to get it back but even life as a no win no fee lawyer has a price to pay.
Show Credits
Directed by Jerrard Moore & Bradley Barlow
Music and Lyrics by Mark Shields & Jerrard Moore
Cast
Rachel Duke as Shop Owner
Sally Gilgeours as Pigeon
Rebecca Kent as Cake Lady
Alex Taylor as Bailiff
Steven Taylor as Young Man
Craig Wayland as Hugo
Peter Westmacott as Mr Suit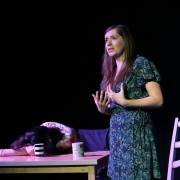 That Night
by Bradley Barlow, Elodie Foray, Alice Jackson and Ella Sowton
Following an assault, three friends must decide whose version of events they believe and how far they're willing to go to support one another.
Show Credits
Directed by Bradley Barlow
Cast
Elodie Foray as Bea
Alice Jackson as Caitlin
Ella Sowton as Amelia
All Shook Up
by Charlie Joseph
Life as a lookalike is not easy, especially when you find yourself kidnapped by a wannabe rap star hell bent on revenge…
Cast
Liam Cooper as Ollie
James Macauley as Joel
Sonia Moir as Sharon
Lauren Morley as Jasmine
Craig Wayland as Alfie