Pitchy regular Duff Eynon recalls regaining his passion for acting
I hadn't acted in years. I'd lost my passion for it. My dear friend Annette spotted an ad in the local paper saying that there were auditions being held for Pitchy Breath's upcoming production 'Shorts'. She virtually had to drag me along as I wasn't all that keen.

To this day, I feel owe her a massive debt of gratitude because I haven't looked back :o)

I was cast in a small role, perfect really as I hadn't set foot on stage for some time and I loved it. There were 3 of us in the short play along with our director David 'Hubris' Heley. Rehearsals were great. The performances were great. But the best thing for me was the people I met.There were 3 other plays being performed on the same night but we hadn't seen them as we all rehearsed at different times. At the technical rehearsal we watched each others plays for the first time.

What a talented and truly lovely bunch of people……and I think that is the KEY to Pitchy's success. Everybody is made to feel welcome, everybody is encouraged,  everybody works bloody hard to deliver every single time.

My first leading role was a Creon in the Oedipus trilogy that we staged, again under the direction of David Heley. We performed 3 of the classic Greek plays in one evening for 3 nights and it was amazing to be a part of.

David let me play with the part as much as I wanted and it paid dividends to my development of the character when at first I wasn't sure how to approach it.  Creon is a nasty character and I really got to play on that in a few scenes which I loved. David likes to use a live band in his plays and by totally by accident during one rehearsal, we could hear ourselves coming through the band's PA system. We played around with this and became part of the show and so as Creon shouted his venomous words at Antigen the audience and cast could hear them echo around the theatre.

We love to have fun with theatre, to play with it and experiment. No idea is discounted and everybody is listened to and their opinion valued (that's what they assured me anyway ha ha).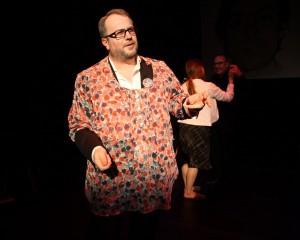 I think my very favourite production was a wonderful play written by a regular of the Pitchy ensemble Jeremy Joseph. It was the  'The fall and fall of the Spiders from Mars' (I think)

I was  cast as one of three blokes in the pub who had a fair bit of interaction with the lead character David Jones.

A few rehearsals in we arrived to grim faced director telling us that due to circumstances beyond his control, one of our actors playing a lead role had dropped out. We were all gutted but understood why.

However the cast were consulted and all agreed to rehearse that night and be constructive despite a blow to our good ship PB…..and this dear friends is a perfect example of how you never know what's coming next at Pitchy Breath Theatre Company. For that rehearsal, I was asked to read the missing character's lines for that so we could make progress as best we could, of course I was happy to do so

By the end of that rehearsal I was re – cast in the part because the director, along with my peers, was really pleased with the way I had read the the part. I had no idea this would go on to become my favourite play and character. A few more rehearsals in, I remember being over the moon as it was a GREAT part…..even though it meant I would be made to look 50 years old each night!

I felt extremely honoured that my friends had the faith in me to take on the role of a 50 year former obsessive of  David Bowie!….it also tough me a lot about the man himself and prompted me to by the Spiders album.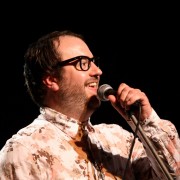 I have played many characters from a Northern Irish comic to a idiotic toff bank robber to a very hungry wolf and have enjoyed every second of my time at Pitchy Breath to date. I look forward to all that we can achieve as a fantastic community theatre company together.

So look…If you enjoy acting and haven't done any for a while……why not come along to an audition…..or a show even….you never know where it will take you! No regrets :o)
https://www.pitchybreath.co.uk/wp-content/uploads/2015/02/28-10-13-174.jpg
2048
1366
Duff Eynon
http://www.pitchybreath.co.uk/wp-content/uploads/2017/04/PB-new-logo-final.png
Duff Eynon
2015-02-10 22:47:51
2015-02-10 23:35:55
You never know where it will take you...