Charlie Joseph recounts his year at Pitchy
2014 saw Pitchy Breath offer up three productions that were as different to each other as chalk and cheese (and a third object, dissimilar to both chalk and cheese) and I was lucky enough to be involved in the trinity with a similar variety of roles.
Previous to last year I had acted in 9 Pitchy productions, my first at the tender age of nine. As the old cliché goes, you get out what you put in, and at PB, it's no exception. I had always wanted to try my hand at directing and upon discovering the next show in the spring would be the third instalment in the series of Shorts (the first two I had immensely enjoyed as an audience member), I thought this a perfect opportunity to test the waters with something a little less daunting. I asked the powers that be about the possibility of directing one of the four short plays and they kindly put their faith in me. I read, along with the other three directors, over 40 plays submitted by local writers and we each picked one. As soon as I started reading, 'We're All Dead' by Jonathan Edgington, I began directing it in my head, and blessed with a cast of seven open and creative actors I was able to translate it to the stage with complete ease. The beautiful thing about this theatre company is that a united team ethic runs through all of it; nobody questioned my authority or ability as a directorial debutant, they pulled together as both cast and crew to produce yet another jewel in the Pitchy Breath crown. Even amongst the four separate plays, there wasn't a hint of rivalry or competition, everybody knew they were involved in something greater than the sum of its parts. The whole evening was a melting pot of styles, genres and themes that I watched with overwhelming pride.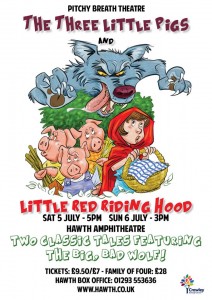 In the summer Pitchy was the place itself in front of an entirely different audience, with its own adaptions of the classic fairy tales Little Red Riding Hood and The Three Little Pigs in The Hawth Amphitheatre. I had been fortunate enough to play the role of Mole in Wind In The Willows back in 2011, and knew both the challenges and rewards of performing both in open air and to children. These experiences, coupled with my two day jobs as a children's party entertainer and kid's drama teacher, presented me with the opportunity of writing The Three Little Pigs, which I grabbed with both trotters. It was an incredibly freeing experience, getting in the mind-set of a child and telling myself that no idea was too wacky or zany. Having performed in the amphitheatre myself I learned that nothing could be too over the top or excessively melodramatic. This, coupled with my desire to leave the majority of the staging in the hands of the director meant that there were virtually no restraints on me and this was fantastically enjoyable. I also found it appropriate to harness another love of mine, song writing, and make it a big musical production to keep the attention of the children. Again, hearing the words from my head delivered by a troupe of exceedingly talented actors was a very flattering experience.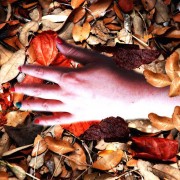 As chuffed as I was watching these two performances, as a thespian you can't help but feel a jealousy toward a stage filled with talented people. You want to be up there enjoying it with them. So for me, auditioning for Dead Leaves by Bradley Barlow in the Autumn was a no brainer. I had loved his dark brand of comedy when I watched  143 Seconds, and was keen to be a part of it. Again, I joined a rich cast of eleven, and was given several roles to sink my teeth into. This very bleak story which focused on the themes of murder, prostitution  and rape was a million miles from the happy-go-lucky kids shows put on a few months before, but was met with the same praise and appreciation from the audiences who flooded to see both. The buzz felt with the stage lights on your face and hearing the gasps and groans of the captivated spectators is a joy that will never diminish.
I suppose my 2014 was the ethos of Pitchy Breath in a nutshell. Trying to do something different, challenge yourself, be open and ultimately always succeed.
---
Charlie Joseph has been involved in very many Pitchy shows and is known for his engaging characterisations and inventiveness. He has written, directed and acted in some of our most successful shows.
---
https://www.pitchybreath.co.uk/wp-content/uploads/2015/02/IMG_5867.jpg
1201
1600
Charlie Joseph
http://www.pitchybreath.co.uk/wp-content/uploads/2017/04/PB-new-logo-final.png
Charlie Joseph
2015-02-09 18:47:26
2015-02-10 23:25:21
The Diversity of Pitchy – My Motley Year