About this play
It's the night of Mike's big surprise party. Friends, family and casual acquaintances have all gathered to give him a night he'll never forget. But as everyone parties the night away, bigger surprises are set to be revealed. Four writers present four new plays looking at one night from different perspectives – it's going to be one hell of a night.
---
Play dates:
Hawth Theatre: Nov 10th 2015
Lingfield Community Centre: Nov 14th 2015
Capitol Theatre: Nov 15th 2015
---
Notes from the Director
I'm very proud to be directing another innovative production from Pitchy Breath. It doesn't feel like too long ago that Jo and I were discussing the concept for the show and the complexity of putting it on. Our four writers have delivered some cracking scripts for our brilliant cast to get their teeth into and I can't thank them all enough for sticking with a project that at times felt like an impossible task.
I'm pleased to say that we've pulled off what should a funny yet out of the ordinary evening of theatre. Each play covers approximately 30 minutes of the same evening – except each one overlaps with the one that came before it. Focus on the action of each play but let the corner of your eye drift to notice what is happening in the background – the strange and unexplained may become understood as the night progresses.
And don't forget to shout 'Surprise!' when Mike arrives – whenever that might be…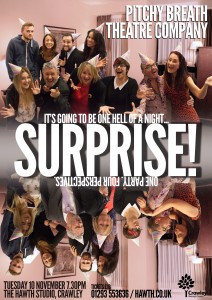 Show Credits
Written by Barry Dunstall, Flossie Joseph, Paul Macauley and Fiona McIntyre
Directed by Bradley Barlow
Produced & Stage Managed by Jo Joseph
Original Music by Adam House
Cast
Liam Cooper
Win Duggan
Rachel Duke
Tim Fifield
Sally Gilgeours
Charlie Joseph
Jeremy Joseph
Becca Kent
Harriet McDermott
Carol Norris
Ella Sowton
Ali Storm
Alex Taylor
Amy Taylor